Scandinavia, May 2003

14 nights. 7 cities. Unforgettable experience.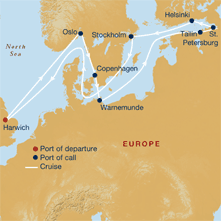 1. Harwich, England


Our cruise begins! From London, my mom and I took a train to Harwich where we boarded the Constellation. Although the cabins were small, it was complete. Who cares about the cabins when everything else in the ship was wonderful!



There were other Filipinos in the same cruise, thank God! We met the founders of Repertory Philippines, Baby Barredo and the late Bibot Amador, with their friends and family. I became close to Baby's daughter, Charlie, during and after the cruise! Good times! :)





2. Oslo, Norway


"Sail through the Oslo Fjord, and you sail back in time to 1050. All of this historic capital city's lavish history can be uncovered at the Viking Ship Museum and the Kon-Tiki museum, which serves as home to the Fram, a famous polar - exploration ship. Cross the drawbridge to the formerly impenetrable Akershus Castle and meander through the famous Vigeland Sculpture Park. In Oslo, don't forget to preserve your memories before returning to the present day."














3. Copenhagen, Denmark


Thank you to TIVOLI Gardens in Denmark - the 1st amusement park. We would not have Disneyland or any amusement park without this.


















3. Berlin, Germany


The first thing my mom and I did was.. drink BEER! Beer in Germany is always gut.












4

. Tallinn, Estonia


Surprisingly, Tallinn was a very nice city. We went to the historic town and I was amazed with the architecture of the buildings. I really felt like I was in the past, especially after seeing the locals walk around in costumes!






5. St. Petersburg, Russia


This deserves a whole new post. I will write and show pictures of St. Petersburg after this entry.



6. Helsinki, Finland


"Occupying a peninsula and several islands, Helsinki's unique location may be overshadowed by the capital city's stunning meld of old and new structures and some of the most spectacular bays you could hope to find. Strolling down broad, tree-lined streets, don't forget to take notice of the stunning neoclassically designed architecture in Senate Square."



7. Stockholm, Sweden


"No fewer than fifty bridges connect this Swedish capital's fourteen islands to its mainland. Undoubtedly, this was to ensure that the Swedes could enjoy every single inch of this magnificent city steeped in parks, museums, and palaces - the most famous being the 600-room Royal Palace"

This experience made me realize that cruise ships are the best way to travel if you intend to visit multiple countries in one trip. Thank you Celebrity Cruises for making this a memorable experience.

* Some text taken from celebrity.com